This feature is only available if you created a website with the Pro package.
Configuration
To enable the automatic management of your stocks, go to the website creation page and select your Store block. If you have several Store blocks, select one of them, the new configuration will be applied to all of them.
On the left side of the screen, in the Store menu, click the Manage Payments button, for the management window to pop-up.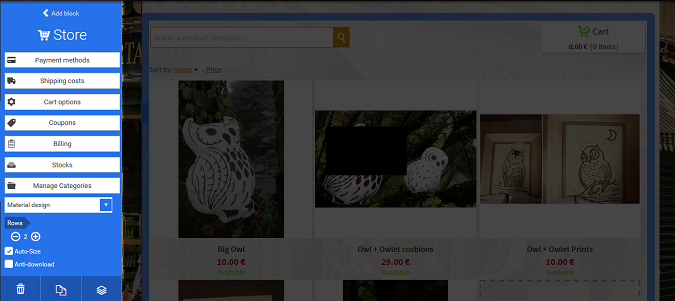 Click the Stocks tab (the last one from the left).

To enable the automatic stock management, check the Enable automatic stock management box. Once enabled, you can choose when your stocks must be automatically decremented: 
received: your stock is decremented each time an order is placed on your internal website. Please note that your stock will be decremented before you get paid by check or bank transfer.
Paid (recommended option): your stock is decremented when you get paid. In case of an order paid via Paypal or Credit Card, order and payment are made simultaneously. In case of an order paid via check or bank transfer, payment is only validated when you click the Paid icon. You can find this icon on the order management page (accessible from My websites, Blocks>Store).
Shipped: your stock is decremented when the order is shipped. To notify that your order has been shipped, go to My Websites, Blocks>Orders, then click on the Order sent icon, corresponding to the order.
Control and renew your stocks
A new feature is available for you to be able to view all of your product stocks in one single page.
Go to the My websites page and click on Blocks > Store, then on the Stocks tab, corresponding to your website.

Thus you'll be able to view and modify your current product stocks manually, as well as their options.