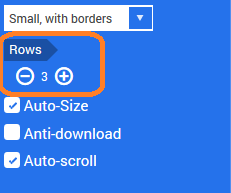 In the Store properties, which are shown in the bottom left corner of the website creation page when a Store block is selected, you can choose the number of product lines per page. You can display between 1 to 25 lines of items per page (the number of items then depends on your Store design and width).
If needed, your online store will display the page list on top of your store items.

Configuring the number of lines has several advantages:
you fully control your online store height,

the store is loading the items faster,
your customers see your items gradually and focus more on each product.