Easily access your sales statistics to improve your Customer Relations
View and download your order list
Go to the My Websites page and click on Blocks>Store>Orders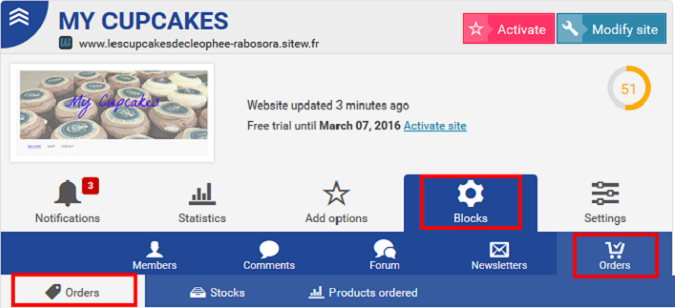 You can access all your sales in reverse chronological order, as well as a lot of different information:
Information related to customers: name, account reference, messages sent and received.
Information related to orders: date and time, history, amount, payment method, memorandum.
Information related to your ecommerce: your sales revenue when the order was performed.

You can also add various events to your sales:
You can click on the various icons under History, to state that the payment has been received or that the order has been sent, cancelled or refunded.
You can download each order individually or delete them.
To manage your sales statistics more accurately, you can customize them:
You can search your stats with the search field. To do so, you can enter the order reference, or the name of the customer or the order amount.
You can filter your results by selecting various options related to payment, to order cancellation or delivery.
Finally you can download and print your order list, by clicking the Download button. This will allow you to generate an Excel file that contains all the data (1000 first results).

Improve your Customer Relations and increase the sales of your onlineshop
Analyze your sales statistics:
You sales statistics allow you to get a global vision of your business.
You can display the cancelled orders, to have a better vision of your ecommerce.
Your sales stats will enable you to analyze your sales, depending on the time of the year. You will then know when you sell the most and adjust your communication and webmarketing strategies consequently.

Create your customer database:
As you can easily access your customer data, you can quickly create a customer database that you will be able to use for your email campaigns for example.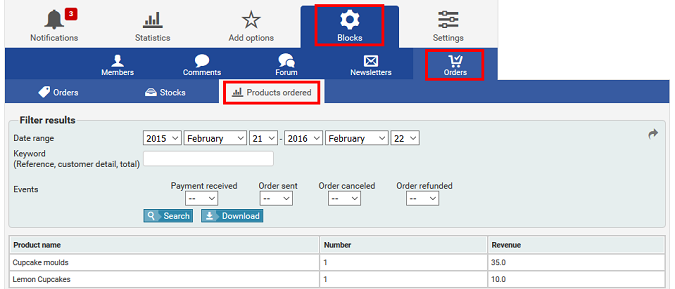 Manage your stocks better with your product statistics
Go to the My Websites page and click on Blocks>Store>Products ordered.
You can access your total sales number by product, as well as the sales revenue for each product.
You can filter your results too, using the search field and the dropdown menus to select the various events related to payment and order cancellation and delivery.
Eventually, you can download and print your sales list.
Improve your stock management and increase your sales

With the list of products sold, you can quickly know which products you sell the most, and thus adjust your stock consequently.
You can also identify your star products and highlight them on your homepage or in your newsletters.

You now know how you can fully take advantage of the ecommerce tools that SiteW offers you. Whether it be to improve your Customer Relations or to increase your sales, ...go ahead!