A tool to increase your sales

This new option will give you the possibility to enable your visitors to save time by entering keywords directly into the specific search field. They will thus be able to easily and quickly find what they want. This will moreover remove certain obstacles for purchase (your visitors can indeed get discouraged by an overflow of information or by too much searching), while improving the customer experience of your visitors. This will also enable you to significantly increase your sales.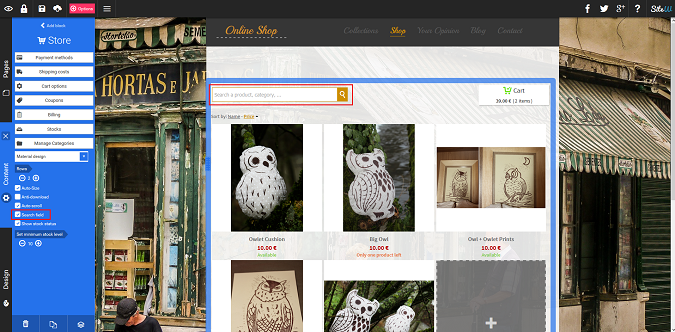 How does it work?

To enable this option, nothing more simple: select the desired Store block and simply check the Search field box on the left of your screen in the blue panel.
Your visitors can now directly search the category names as well as the product names, references and descriptions. The search is performed through all your website products. When a keyword is entered, keywords or category/product names will be suggested to facilitate the access to the desired information. Our technical team has tried to make these suggestions as relevant and reactive as possible.
You now hold a performing new tool in your hands that will help you increase your sales!