Finding the right illustrations for your website or your blog is not an easy task: you never really know where to search and most of the pictures you find on the internet are protected by copyright and you can absolutely not use them the way you want. Laws are quite strict on this matter and you have to be very careful. SiteW offers you direct access in only a few clicks to a huge database allowing you to illustrate your website freely, easily and "lawfully".
How to search pictures in the Pixabay database?
The searching process is easy as ABC to insert royalty-free pictures into your website:
On the website creation page, when you choose an image as a background or for an Image block or a Gallery, Blog or Store block. The file manager opens.
1. Click on Public Files.
2. Ensure that Pixabay is selected
3. Enter your keywords in the search field and
Select the type of image that you want (vector, photo or illustration)
Choose if you want to sort your search results by popularity or by date
Check High resolution if you want to use the image as a background or in fullscreen width.
Check Pixabay's choice to only list the images selected by the Pixabay team and thus guarantee a certain quality.
4. Select your image(s) in the file manager by clicking on it/them
5. Click on Apply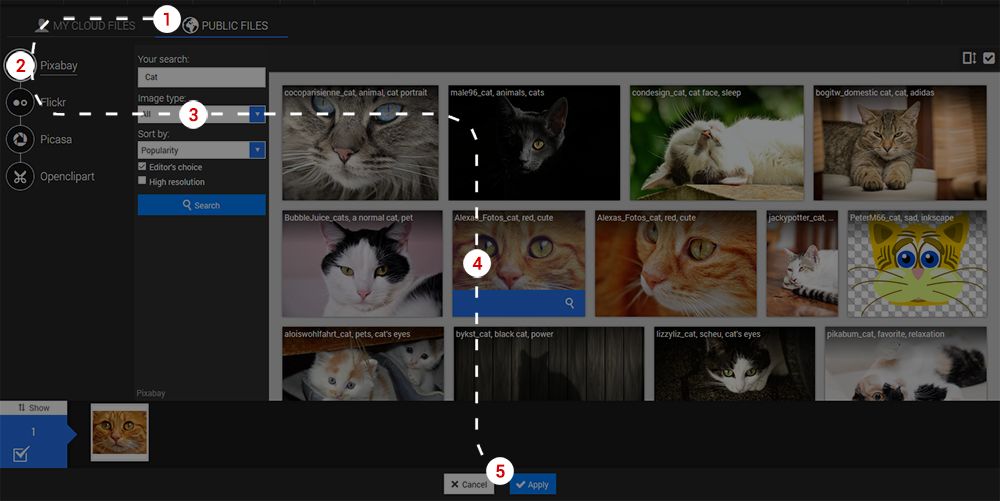 How to use the Pixabay images on my website?
You can also use the images in your header for instance.

You can now choose your images freely, easily and create the pretty website containing beautiful illustrations that you dream of.