1. Create a website

With the Starter package, the stats available on SiteW are limited. To get more stats, load them faster, choose the start and end date, ... we advice you to either upgrade your website (to a Premium or Pro package), or activate Google Analytics for your website.
The Premium and Pro packages also allow you to have:
your own domain name .com, .net or .org
a professional email address using your domain name

as many pages as you want on your website
interactive blocks: contact forms, visitors' comments, music...
your own online store (Pro block)
professional templates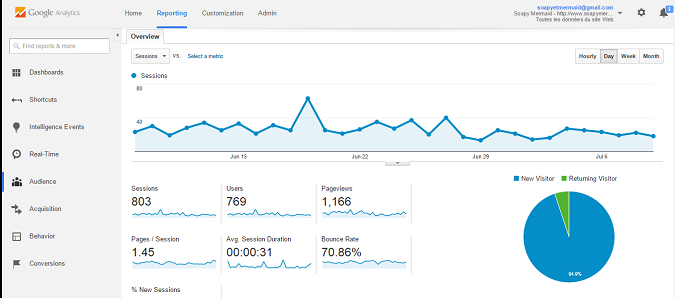 2. Open a Google Analytics account

SiteW stats also use Google analytics. By configuring your own account, you will be able to do custom searches and generate detailed reports about your visitors.
To sign-up on Analytics, go to http://www.google.com/analytics/, and follow the instructions to create a "website profile" with your site address.

3. Configure your SiteW website

Go to the My websites page, click on the "Statistics" button then "Log-in". Once logged into your account, select one of your already created configurations or create a new one. If you haven't created any configuration yet, a new configuration will automatically be created. the next visits on your websites will be recorded on your Analytics account (note that you need to wait 24h to get the first results).