1. Create a website

With the Starter package, the stats available on SiteW are limited. To get more stats, load them faster, choose the start and end date, ... we advice you to either upgrade your website (to a Premium or Pro package), or activate Google Analytics for your website.
The Premium and Pro packages also allow you to have:
your own domain name .com, .net or .org
a professional email address using your domain name

as many pages as you want on your website
interactive blocks: contact forms, visitors' comments, music...
your own online store (Pro block)
professionnal templates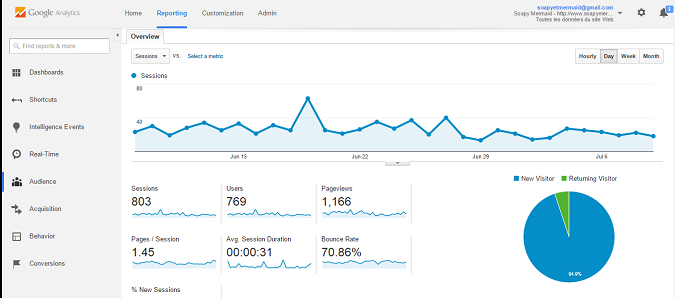 2. Open a Google Analytics account

SiteW stats also use Google analytics. By configuring your own account, you will be able to do custom searches and generate detailed reports about your visitors.
To sign-up on Analytics, go to http://www.google.com/analytics/, and follow the instructions to create a "website profile" with your site address.
You then get a script which looks like this:
Code 1
<script type="text/javascript">
var gaJsHost = (("https:" == document.location.protocol) ? "https://ssl." : "http://www.");
document.write(unescape("%3Cscript src='" + gaJsHost + "google-analytics.com/ga.js' type='text/javascript'%3E%3C/script%3E"));
</script>
<script type="text/javascript">
try{
var pageTracker = _gat._getTracker("UA-xxxxxx-x");
pageTracker._trackPageview();
} catch(err) {}
</script>
Code 2
<script type="text/javascript">
var _gaq = _gaq || [];
_gaq.push(['_setAccount', 'UA-xxxxxxxx-x']);
_gaq.push(['_trackPageview']);
(function() {
var ga = document.createElement('script'); ga.type = 'text/javascript'; ga.async = true;
ga.src = ('https:' == document.location.protocol ? 'https://ssl' : 'http://www') + '.google-analytics.com/ga.js';
var s = document.getElementsByTagName('script')[0]; s.parentNode.insertBefore(ga, s);
})();
</script>
Get from this code your analytics profile code UA-xxxxxx-x, located 4 lines before the end. Once you get the code, do not follow google instructions about how to insert this code on your page, this is done automatically by SiteW.

3. Configure your SiteW website

Go to the My websites page, click on the "Settings" button then "Search engines". In the popup window, fill in your profile id "UA-xxxxxx-x" in the Analytics Code field. You can then validate the form ; the next visits on your websites will be recorded on your Analytics account (note that you need to wait 24h to get the first results).