Creating a Facebook Developers account
You must have a Personal Facebook account . If you do not have an account yet, create an account. Then make sure you are connected to your Facebook account and visit this page: https://developers.facebook.com/
Click on the button "Register". Facebook will ask you to validate your account and to accept the Facebook Platform Policy, you must enter your mobile phone number. Once entered and validated, you must enter a code that you will receive via SMS after a few moments.
Return to the page http://developers.facebook.com/
Creating a Blog application
Click on Facebook Social Plugins
Click on Comments
At the bottom of the page, click on Comments Plugin

Application configuration
Your Facebook app is now created, you arrive on the configuration page, under Comments plugin code generator:
Enter http://www.sitew.com in the field URL to comment on
Click on Get code

Copy your App ID
Facebook Application ID
Return to the sitew website creation tool and select your blog. Click on Comments in the properties window.
Click Enable Facebook comments if it is not already, then paste your application ID in the field Application ID at the bottom of the page.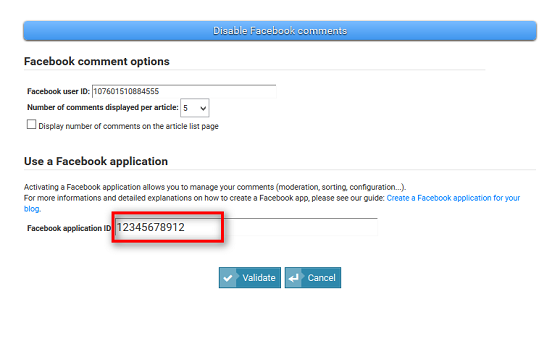 Finally, click on the "Submit" button