As mentioned in our article Add Music to your website, adding music is an asset in website creation. It is even necessary as far as music professionals and music fans are concerned.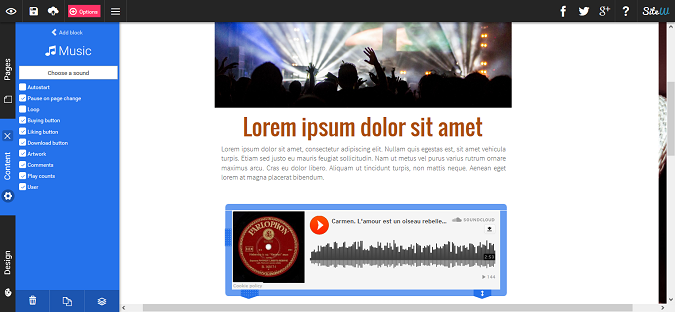 How can I add a SoundCloud playlist to my website?
You have two options :
To add a playlist to your website, you just need to add a Music block to your website and to select Public Files in the File manager, then to select Playlist in the dropdown menu on the left. You will then be able to enter either your playlist url or the name of your playlist in the search field. The music player will display all the tracks and it will be easy to individually select the song to be played.
You will also be able to select several tracks that will be played one after the other. The player won't display all the titles but the tracks will be played automatically. To do so, select Public Files in the File manager, then Tracks in the drop down Menu on the left. You can type your track url or its name or you can search for tracks by keyword as well.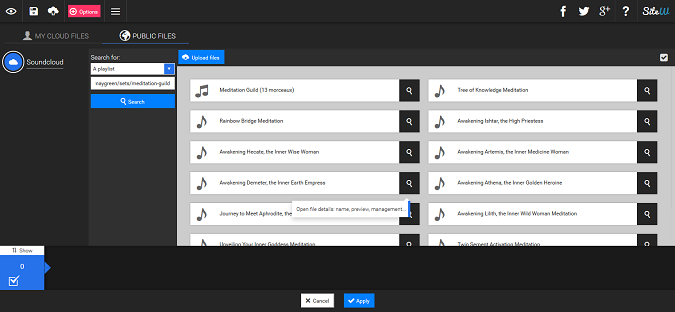 Options available for your Soundcloud Playlists
Here are the options you can select in the settings on the left in the blue panel :
AutoStart: the track is played automatically when a visitor navigates to the page.
Pause on page change: the track is paused when visitors change pages.
Loop: the track is repeated after reaching its end.
Buy button: a buy button will be displayed if the track can be bought.
Like button: a Like button is displayed if sharing is enabled.
Download Button: a download button is displayed if the track can be downloaded.
Artwork: allows to display the artwork of the track.

Comments:  allows to display the track comments.
Play counts: displays the number of plays.
User: displays the name of the uploader.


With these new functions, you will be able to easily add your playlists to your website. Enjoy!