When you add an Image, a Carousel, a Music, a Video, a Map or a Download block to your website, you will have to
use our File selector

. The File selector is the

library containing all the files

, that can be directly added to your website.
2 types of files
The File selector allows you to view and select 2 types of files:
Personal files (click on My SiteW files)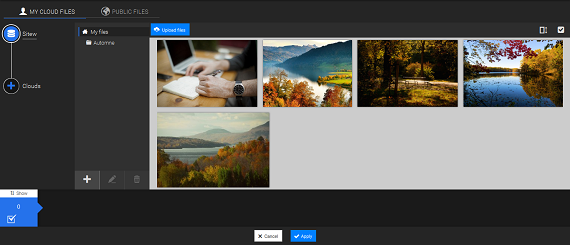 These files are stored in the storage space of your SiteW account. You can send new files by clicking on Download Files, in order to select a file from your computer, or by drag and dropping it directly into the File selector. A new function will soon be available, that will allow you to pick your personal files from other storage services (such as DropBoxDriven, Google+ photos, Box.net...)
Public files (click on Public files)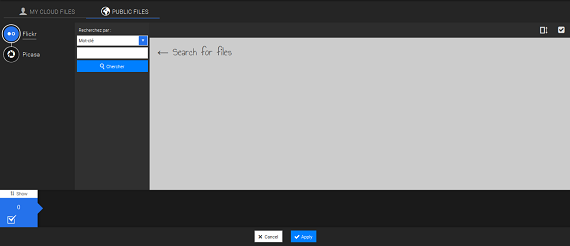 This tab allows you to find very easily royalty-free files on various sharing sites (Youtube, Flickr or Picasa). You can also search for files, using various ways, depending on the type of files that you want.
You will soon have the possibility to pick files from new storage services (Dailymotion, Vimeo...).
Manage your files 
By clicking on your files, you will select them, then, you can move them

and delete them 淘. You can also add a description to them by clicking on ⚲.
You'll also be able to choose the line height of the file list by clicking on ↨ and to select all your files at once by clicking on ⛂.

When you've added a Carousel block (image gallery), you can select several files to make a list. You can deselect them in just one click ☑. 

The Show button will enable you to reorder your list of files. You will also be able to view the details of your files and modify their description.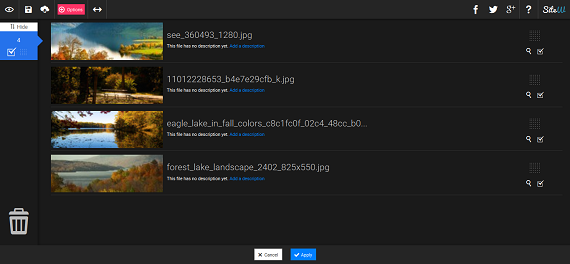 This process allows you to easily delete several pictures at once.
Manage your folders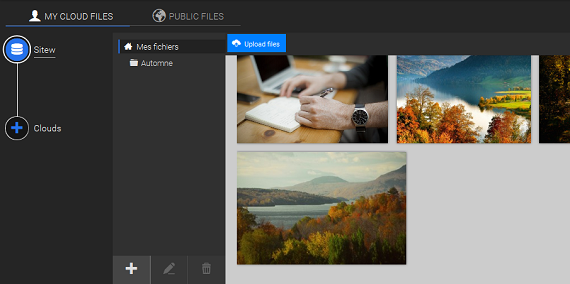 You will also be able to create folders by clicking on ✚ in order to classify your images. Your folders appear on the left hand side of your images.
You can put your files into your folders by drag and dropping them to the appropriate folder, using the grip

.
You can move your folders, reorder them and modify their hierarchy, by drag and dropping them

.
Thanks to the toolbar at the bottom of the panel, you can also delete your folders 淘 or rename them 룝.