You have created a professional website on SiteW, and you have been using custom forms (contact forms, online quote requests, polls…) for your customer relations. You now have the possibility to read and manage the responses given to your forms by your visitors, directly from your personal space, once logged into your SiteW account.
How to manage your form responses?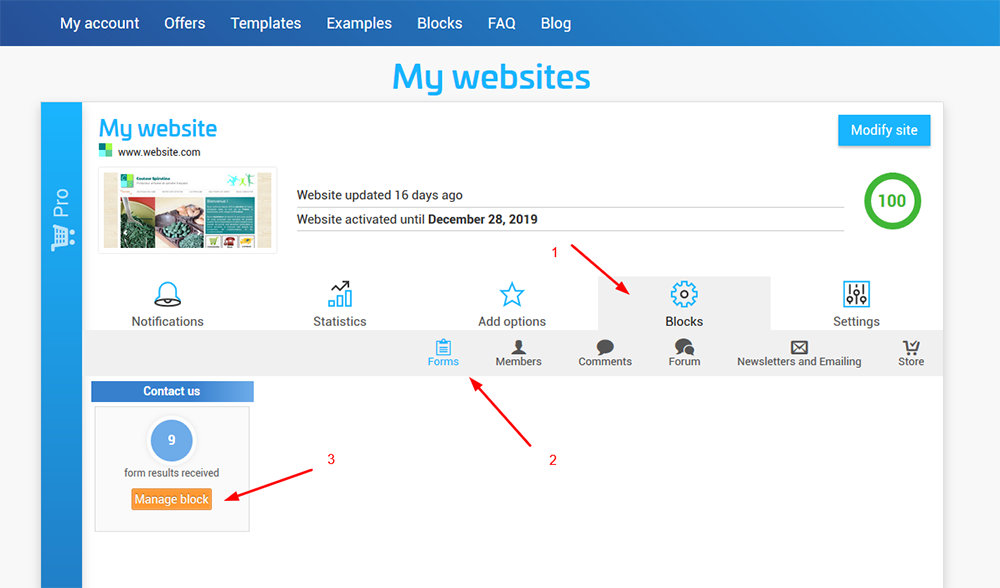 To access the management interface of your Form blocks, follow the following steps:
 Log into your SiteW account
 Go to the "My website" section
 In the section related to your website, click on Blocks>Forms
 Select the desired form, with just one click
 The list of form responses appears
Actions that you can perform to manage your form responses
To delete one or several form responses, check the appropriate boxes, or select them all, then click on the Delete button.
The Download button allows to download the responses in Excel format, while keeping the same format as the initial table.
Additional information
In addition to the data required by the form, you will also get the IP address of the visitor, as well as the information of the member (name, email), if the visitor is a member of your website, and is logged into your website while filling the form.
If you have made changes to your Form blocks, by deleting or modifying some entries, the old columns will be kept (with their responses).  That way you'll still have access to all information.

To conclude, the SiteW management function of your form responses allows you to have instant access to the data collected through the forms that you have inserted into your website. You can, moreover, delete or download it, in order to easily process it. And thus make your website even more professional!
Last update: March 20, 2018