The 7 key points of our brand new file selector
A modern design
Our team of designers have worked hard to create a tool, which is both trendy and attractive, but which nevertheless remains handy and easy to use.
Easy to browse
The main strength of the new file selector is that it is easy to browse:  the drag and drop technology allows you to easily move your files or add new ones.
Quick processing
The new tool allows you to carry out all the actions in only one click: select, deselect, add or delete a file, search new files… You 'll be able to do all these actions very easily, intuitively and with surprising quickness. With the new file selector, everything becomes easy and smooth.
All your files with just one click
It is going to be easy to find all the pictures you want, only by searching them in the Flickr, Picasa or OpenClipArt database. The search by keyword or user account allows you to find precisely and easily what you are looking for. It is also a good way to find some inspiration if you have not made up your mind yet.
In the same way, you'll find all the Youtube and Dailymotion videos that you are looking for with the same easiness, by simply entering the video or the channel URL.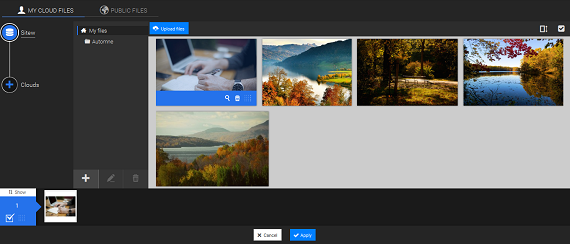 Better management of your data
The Drag and Drop technology allows you to classify in a wink of eye all your files in subfolders. Thus your workspace remains clear and organized.
Quick and easy SEO
You just need to click on the magnifier icon next to a file to access its description and thus improve your website SEO.
Quick and easy access to numerous royalty-free files
SiteW enables you to quickly access numerous royalty-free public files, that you will be allowed to use the way you want on your website, without worrying about the legal restrictions on their use.
Don't wait any longer and try this unique tool to make the website of your dreams!