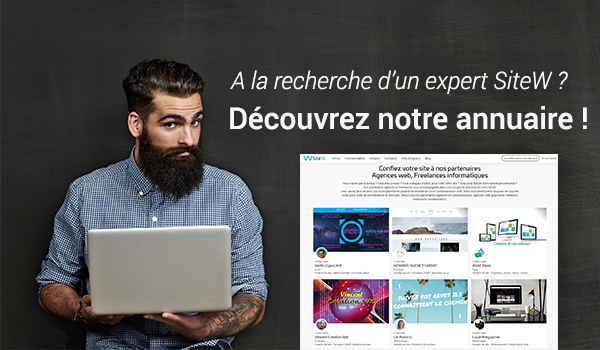 Why use a service provider?
You may have different reasons to do so: your job may leave you too little time, or you may just not like computers very much. Or you may not know how to get started: in that case, a little help from a professional can guide you, so that you can achieve a result that better fits your expectations.
A tailored website design
We plan to develop a partner network that is geographically balanced. So that all our users can easily find a partner next to them. That way, you will be able to easily contact a service provider. And the latter will have the possibility to meet you in your workplace, in order to take in the atmosphere, see you working and get to know your specific needs. Consequently you will have a website that perfectly suits your requirements, and the brand image you want to convey.
Who are the SiteW partners?

Most of the time, they are agencies or freelancers specialized in the web industry. More exceptionally, they can be users that are very comfortable with our tool, and whose skills we have noticed.
How to find "my" service provider?
SiteW puts at your disposal an expert directory, in which you will be able to find the partners located near you, with all the necessary information to make up your mind: portfolio, additional services, personal details.
How much does it cost? What about payment?

You can subscribe yourself, or let your service provider do it for you. In any case, you will only pay the public price. The provider will send you invoices, and you will pay your subscription directly to him. SiteW doesn't charge any commission on the sale of services.
How will my account management work?

Your service provider accesses your website, to make the necessary changes, but he can't access your account, so you don't have to give him your login information.
What are the guarantees for the service providers' skills?
Technical aspect
The technical skills of our experts are individually validated by our team of developers, on the basis of their credentials and past achievements using our website design tool.
Ethical aspect
As far as ethics is concerned, our partners committed themselves to stick to a code of ethics and a methodology guide, and to implement harmonized tariffs.
Assessment of quality of service
To complement these guarantees, and in order to get precise feedback on the quality of the services provided by our partners, we plan to collect the opinions of customers, as well as to implement the "mystery shopper" technique.
Our expert network is there to assist you and help you with your website design. So you can partly free yourself from the tasks related to the creation and maintenance of your website, and in this way, you save valuable time. Moreover, if you are not comfortable with computers, this solution will allow you to create a website that fits your needs, while keeping your independence. Don't hesitate to ask for help!