Functions 
Super quick access to your files
With the Image, Gallery, Download and Video blocks, you can quickly and easily access:
the files you stored on Google Drive
the videos you uploaded on Youtube
Management of the access rights
You don't have to worry about the sharing rights of your files and videos. Everything is automatically managed (after confirmation).
When you share a Drive file, it will be available in read-only mode, only for the visitors who got the link via the Download block inserted on your website.
As for your private Youtube videos, their status will be changed into "Unlisted", so that they can be displayed on your website.
More storage whatever your package
Directly from the file manager:
You have the possibility to upload your documents and photos on Google Drive and then to use them.
You can also create folders on Google Drive to organize your documents.
You can upload your videos directly on Youtube and then display them on your website.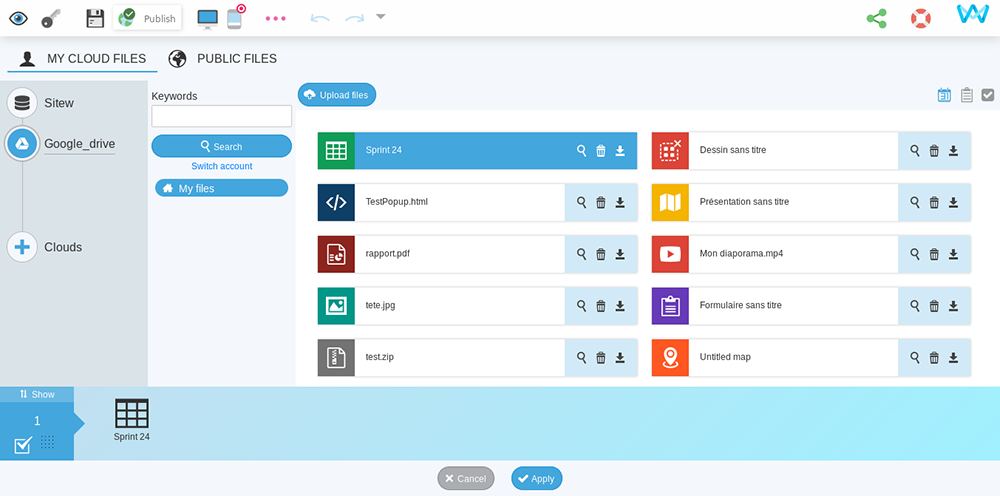 How does it work?
Everything can be easily managed from the SiteW file manager:
You can access the service by clicking on the new Drive and Youtube icons that appear in the My Cloud files tab.
Next, click on the connection button.
Once the access is authorized, all your folders and documents (or playlists and videos) will display. You can then select the ones you want to display on your website.
As usual, you can upload your files in the easiest way possible, using drag and drop.

It is even easier now to manage your files on your SiteW website. You can store, organize and share your photos, videos, documents from a single place, with only a few clicks and with no storage limit!