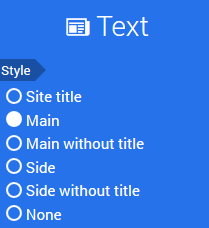 The Text Block offers many options to let you create your website with a lot of freedom.
Style:
Depending on the content you add into the block, you can change its style, ie. the background image, the default font, the text size...
6 styles are available:
Title: for the main title of your website
Main: for the text showed in the center of your website
Main without title: if you do not need a title zone in the block

Side: for the text showed on the side of your website
Side without title: if you do not need a title zone in the block
None: if you do not want to use a style based on the theme of your website.
 Example with the Modern Theme:
| | | |
| --- | --- | --- |
| | | |
| Title Style | Main Style | Side Style |

Size:
When the text you entered is too long, 3 options are available:
Crop Text: hides the content outside of the block.
Add Scrollbar: if necessary, shows a scrollbar on the side of the block, to let visitors read your entire mesage.
Resize Block: adjusts automatically the size of your block to show all the content.
Example with Balanced Theme:
| | | |
| --- | --- | --- |
| | | |
| Crop Text | Add Scrollbar | Resize Block |
Tools to edit your text:
In order to edit your text, many functionalities similar to the ones you can find on the text editors are available.
Thus, you can:
choose the font and the text size
align the text on the left, on the right, center it or justify it

put it in bold, italic or underlined
change its color or its background color
insert an image in your text
add a link to another page or to another website

or directly modify the code of the content (for advanced users)

If you have any question or if you would like us to add a new functionalities, please post a message.