Premium

and

Pro

websites can

customize their favicon

with their own image.The small square icon is used in most browsers in the

address bar

, in the

bookmarks

and next to the website title

in the tab

.This tutorial explains how you can

change your website favicon

and where you can find

great favicons for free

.
What is a favicon?

A favicon (short for favorite icon), is a small square icon associated with a website. Browsers display a website's favicon in the browser's address bar and next to the page's name in a list of bookmarks. Browsers that support a tabbed document interface typically show a favicon next to the page's title on the tab.
How do I change my website favicon?
With SiteW, changing your favicon is fast and easy. Go to My Websites, click on the button Settings and select Favicon(*) (you can also open this tab by clicking on the favicon located on the left hand side of your website's address on My Websites).
A window pops up, allowing you to either pick one of our available favicons or to send your own image. If you send a large picture, your image will be resized to be small and square.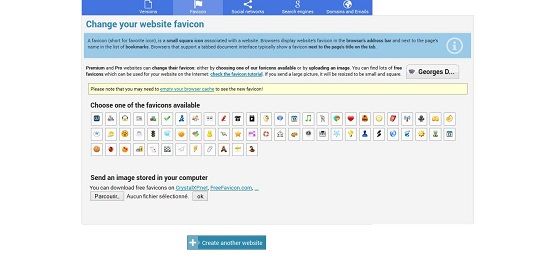 Please note that most browsers do not detect immediately that your favicon changed. You can either empty your browser cache or wait for a few hours...
(*) This option is only available for Premium and Pro websites. Starter websites can only have this favicon 

.
If you want a custom favicon, upgrade your website (domain name, more pages, interactive blocks, professional designs...).
Where can I find free favicons?
You can download icons for free on many websites. Here is a list of websites where you can find icons and favicons:
Once you found an image you like, right click on it and click on "Save the file as..." to save it on your computer. You can then use it as your website favicon by using to the form described above.