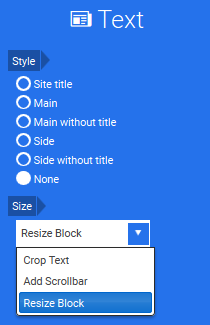 Until now, if you entered a text which was too long, the end was automatically hidden.
To show your entire message, you had to resize the block.

We added a new option to the Text block to simplify its use.
When the text entered in a block is too long, 3 options are available:
Crop Text: hides the content outside of the block.
Add Scrollbar: if necessary, shows a scrollbar on the side of the block, to let visitors read your entire mesage.
Resize Block: adjusts automatically the size of your block to show all the content.
Example with Balanced Theme:
| | | |
| --- | --- | --- |
| | |   |
| Crop Text | Add Scrollbar | Resize Block |
For more information on the Text block, please read the article Text Block.