You start with the website creation page.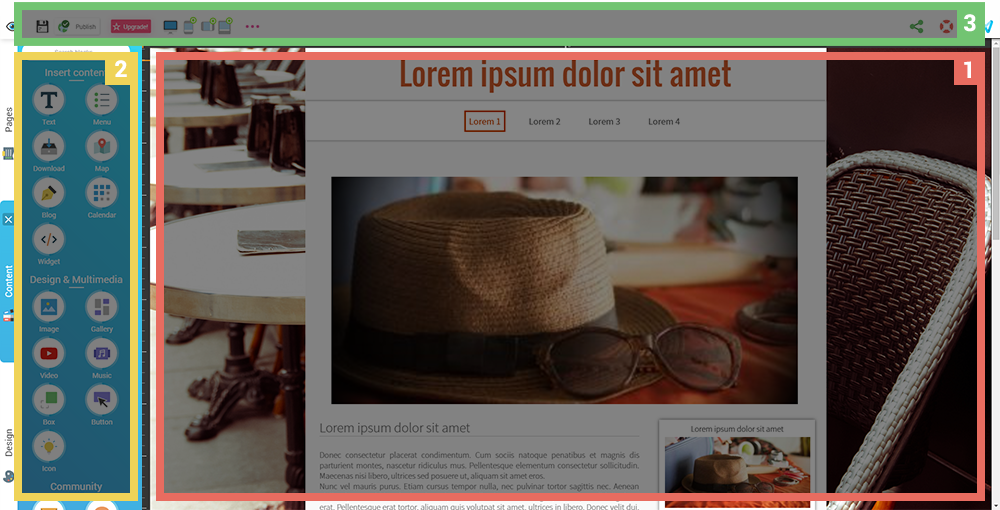 We are first going to focus on the most important parts of the website creation tool.
I - Overwiew
1) Your website

On the middle of your screen, you can see your website with the template you have selected. It is displayed exactly as it will appear to your visitors. It is also the place where you will simply drag and drop the different elements (we call them blocks), that you want to add to your website.
2) The panels

On the left, you'll find all the tools you'll need to create and modify your website.
These tools are separated in three parts, in order to be easy to understand and to use:
Each of these parts and the numerous functions they contain will be presented below, in details.
3) The top toolbar

You can see a dark toolbar on the top of your screen. This toolbar will enable you to save your work, to publish your website, to choose a subscription package, to access our free online help, etc... We'll talk about this again later on.
II - The panels

On the left hand side of your screen, you'll find everything that you need to modify your website in the panels.
1) The Pages panel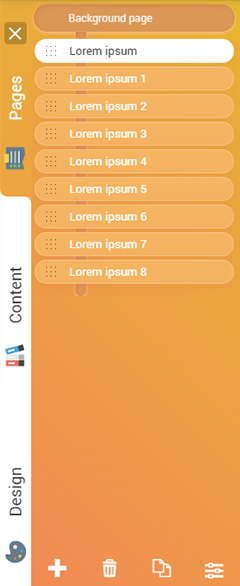 This ORANGE panel will enable you to manage and customize the various pages of your website. You'll be able to reorder all your pages and to modify their hierarchy, by simply drag and dropping them, thanks to the grip on the left.
At the bottom of the panel, you'll find the page management toolbar. You can:
淘 delete a page

⎗ duplicate a page

✚ add a new page
The Setting tool ☰ will allow you to manage the protection of your pages (password protection, member access, paying pages), as well as the SEO.
The background page is a special page which allows you to add blocks to the background of all your pages (useful for the menu and your logo).
2) The Content panel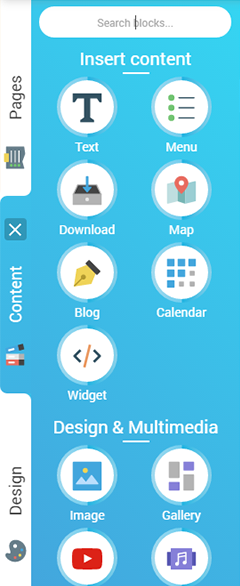 Thanks to this BLUE panel, you'll be able to add content to your website. To do so, use the blocks, which you can freely drag and drop to your page. You can find all the blocks available on the Pro blocks page and on the Block Demo Page.
To add a block to your website, drag and drop it from the panel to your page. The search feature allows you to quickly find what you want in the numerous blocks available.
When you select a block on your website by clicking on it or on the border appearing on mouseover, you can modify it by using the settings which appear in the blue panel. You'll then be able to choose among different options, depending on the block you have selected. To do so, you may have to use our File Selector.
You will also be able to use the toolbar at the bottom of the panel, which will enable you to copy, move ⎗ or delete 淘 a block, as well as to move it to foreground or to background ☷.
By using the different tools you can see on the block border, you will be able to resize, move, rotate and push your website elements, as described below: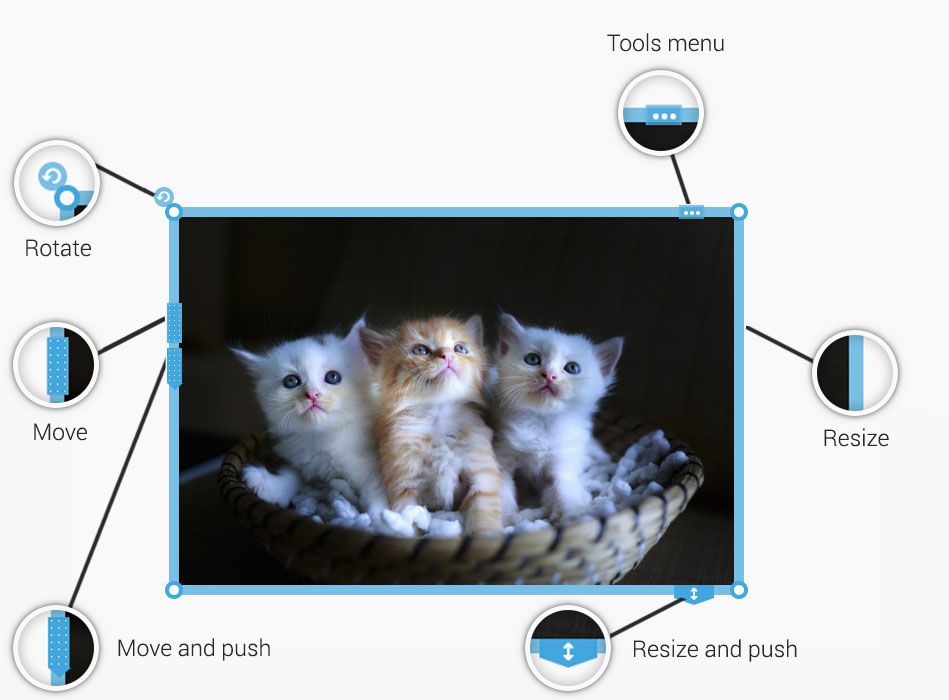 There also exist an automatic sizing tool specifically designed for mobile optimization.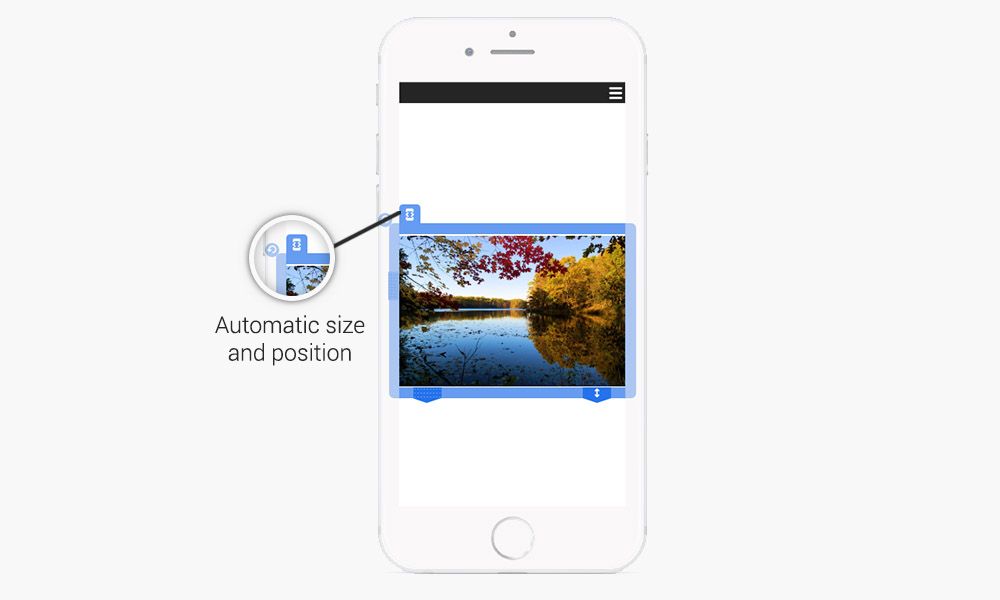 Here is the list of the available blocks:
Content
Image and multimedia
Community and Social Media
Online Store
3) The Design panel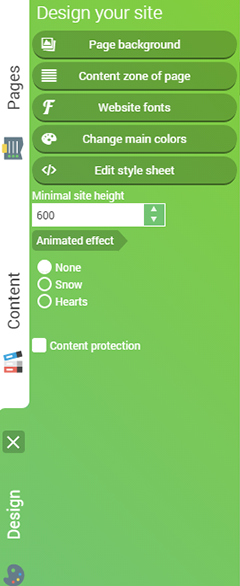 This GREEN panel will allow you to choose another template for your website.
The advanced Premium and Pro users will also be able to customize the style of the template they have selected, by modifying CSS (click on Edit style sheet).
NB: this function will soon be improved, it will become easier and will be accessible to anyone, without any technical knowledge required.
III - The Top toolbar

In the dark toolbar at the top of the page, you'll be able to save and publish ⋀ your website. The Premium and Pro users will also be able to save their website as a draft ⚐, in order to publish it later.
You'll also be able to visualize your website ⃝.
The pink button will allow you to activate advanced functions.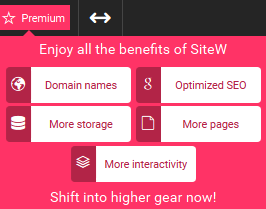 By clicking on SiteW, on the top right hand side of your screen, you'll be able to come back to your website list and to your SiteW account management page. You'll also be able to log out or to visit our FAQ, guides and blog.
On the top right hand side of your screen, you'll also find social media buttons, which will allow you to share your website on your social media pages.
Finally, you'll access online help, by clicking on ?.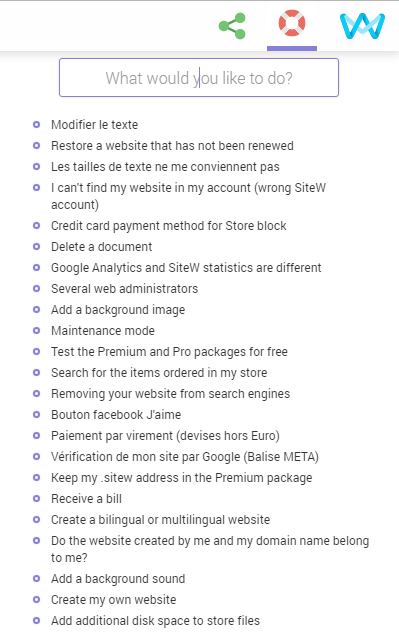 Online help
The online help will allow you to:
Conclusion
Start creating your website now and you will have it online in minutes.